Home
Main content starts here, tab to start navigating
Slide 1 of 15
Slide 2 of 15
Slide 3 of 15
Slide 4 of 15
Slide 5 of 15
Slide 6 of 15
Slide 7 of 15
Slide 8 of 15
Slide 9 of 15
Slide 10 of 15
Slide 11 of 15
Slide 12 of 15
Slide 13 of 15
Slide 14 of 15
Slide 15 of 15
The Forbes Mill Concept
Forbes Mill Steakhouse combines excellent food and distinguished service with a stylish and comfortable environment. The menu features the finest cuts of Prime Certified Angus Beef and Wagyu available. Forbes Mill Steakhouse also offers fresh seafood daily, including Lobster Tail, Salmon, Halibut, Day Boat Sea Scallops, and more. The menu also offers inventive salads, classic side dishes, and decadent desserts. Complementing all of that, enjoy a bottle of wine from our award-winning wine list that boasts some of the finest vintages in the world.
The  Beef
Forbes Mill Steakhouse is among a select group of restaurants in America to exclusively serve C.A.B Prime that must pass nine more quality standards than regular USDA Prime. Less than 1.5% of beef is elite enough to meet Certified Angus Beef Prime standards. Our steaks are hand-selected, aged a minimum of 28 days, and cooked in our 1800 degree broiler.
Award Winning Wine List
At Forbes Mill Steakhouse we offer our guests a wide selection of world-class wines to complement the cuisine from Executive Chef Brian Weselby. We specialize in presenting the finest of California boutique wineries, with great depth in small producers of Pinot Noir and Cabernet Sauvignon. With over 600 selections available, we have choices to fit any budget and taste.
In addition, we carry a great diversity of wines from Italy and France, with an emphasis on Brunello di Montalcino and Châteauneuf-du-Pape. Also featured are wines from Spain, Argentina, Australia, Chile and more.
For those interested in smaller formats, we offer an extensive selection of half bottles, perfect for food/wine pairing and experimentation. Forbes Mill Steakhouse is the perfect destination for serious wine lovers.
Executive Chef Brian Weselby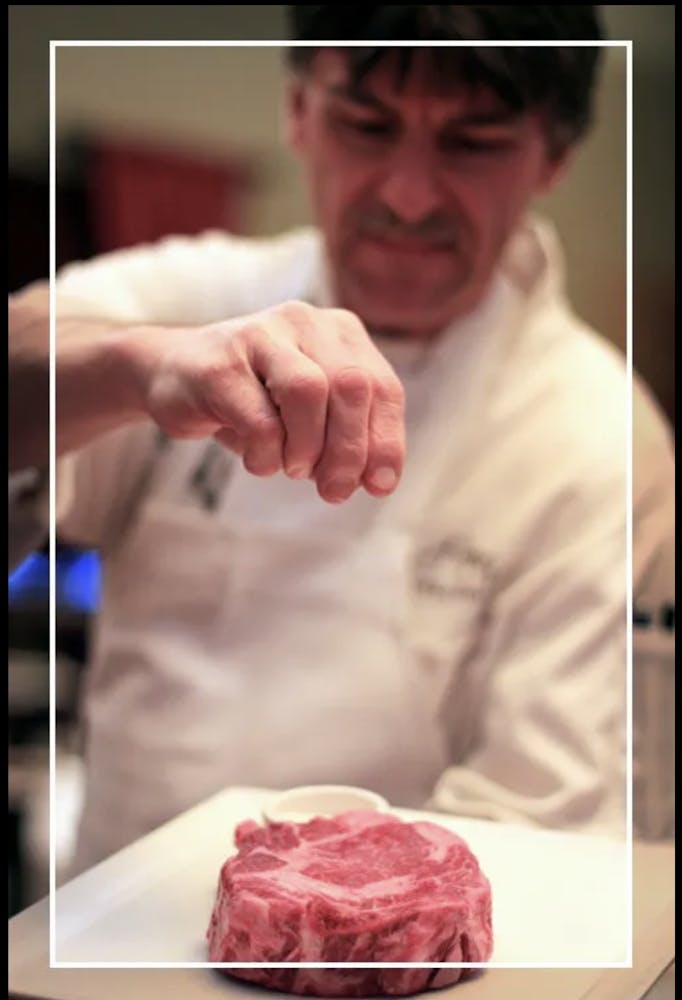 Brian Weselby is the corporate executive chef for Forbes Mill Steakhouse. His mission is to create extraordinary steak and seafood dishes using the best ingredients available, drawing upon his wealth of experience. Previously he was the corporate chef for Tavistock Restaurants, LLC, overseeing the menus and chefs for six restaurant concepts, including California Café, Napa Valley Grille, and Blackhawk Grille.
Born and raised on a farm in England, Chef Weselby grew vegetables on the family's one-acre garden. He learned to cook from his aunt, making bread and meringues from the early stages of life before graduating from Plymouth Catering College. After working at several Michelin-starred restaurants in England and France, he settled in California and has been the executive chef at the Lion and Compass in Sunnyvale, Biers Brasserie in San Jose, and Le Mouton Noir in Saratoga. In 2002, he received the Menu Strategist Award from the Restaurant Business Association for his creativity in menu development.